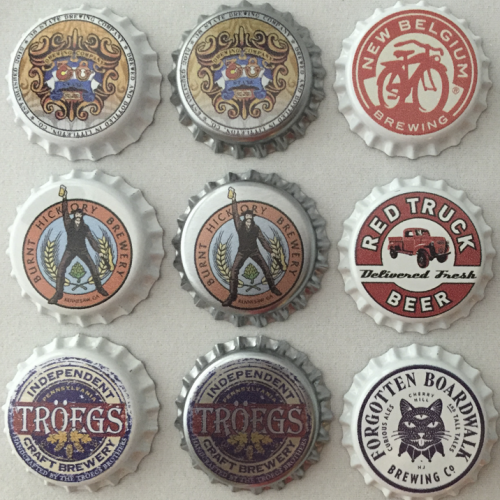 Custom Printed Bottle Caps
These custom printed beer bottle crown caps are ideal for the home brewer or craft brewing company wishing to add value to their product either for promotion or branding. These Pry-Off crown caps fit all bottle sizes and have a built in Oxygen absorber / barrier allowing the contents to stay fresh longer.
Printed in the USA!
We custom print bottle caps in-house using the same 6 color UV Digital Print technology that we use for all our custom printed CD / DVD discs, USB Cards/Sticks, Poker Chips Because we don't print digital white we do not recommend color printing on to the colored caps. However, some interesting and unique results can be obtained printing color on to the Silver or Gold caps. If color is important, ensure you choose the White cap.
Custom Beer Cap Features:
Intermediate size Pry-Off Crown cap - 26mm
Excellent reliability and compatibility
Oxygen scavenger
Oxygen barrier
Liner: Dry blend (PVC free)
Steel type: TFS and ETP.
Some Sample Uses:
Home Brew
Craft Breweries Promo
Date Brewed
Eye Catching Promo
Wedding Favors
Custom Beer Cap Options:
Choose from various base colors
Artwork Design - Learn More
Physical Print Proof