Artwork Options
Artwork is uploaded AFTER you have completed checkout. This is so that your artwork files are automatically named with the 5 digit order number to ensure your order and artwork are linked together. Additionally, after successful upload of your artwork you will receive a confirmation email. Below are some basic guidelines for artwork preparation but more detailed information can be obtained from our Templates section and also from the Artwork Upload area which is accessible after checkout has been completed. We have four options for Artwork Preparation / Upload:
Upload your own artwork
Use our Online Design Tool
Design it for me
Use from a previous order
Upload My Own:
We have implemented a user friendly Upload area which clearly shows how your disc artwork will appear when printed. This allows you to have a visual proof prior to printing that your artwork conforms to our templates. You will notice that on the right side of the Upload Artwork page are the Design Requirements as well as applicable templates for the product.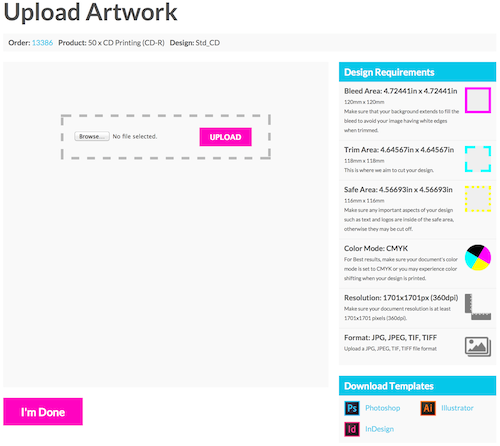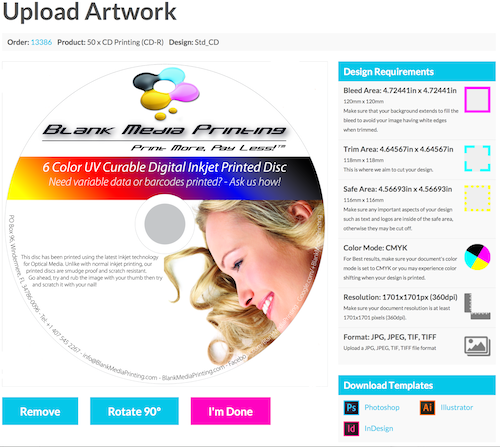 Once you completed uploading your image files you simply click the I'm Done button then click the Lock & Send for Printing button.
To avoid delays, make sure your disc artwork conforms to our artwork specification requirements which in brief are as follows:
Disc Artwork:
| | |
| --- | --- |
| Artwork Size: | 120mm x 120mm (4.7244" x 4.7244") |
| Cropping / Masks: | No Masks or Cropping required. Image must be full bleed |
| Image Resolution: | 360 dpi (dots per inch) |
| Color Mode: | CMYK |
| Color Profile Preferred: | US Web Coated (SWOP) v2 |
| File Types Accepted: | TIFF, JPEG, PDF |

Sample Disc Artwork - Full Bleed
Online Design Tool:
We now offer the option to create your layout design using our Online Design Tool. This is especially useful those customers who do not have access to programs such as Photoshop or Illustrator. Our Online Design Tool can be used for all product design including Disc, Sleeves, Wallets, Jewel Case Booklets, Jewel Case Tray Cards, and DVD Wraps, as well as customizing our Stock Designs.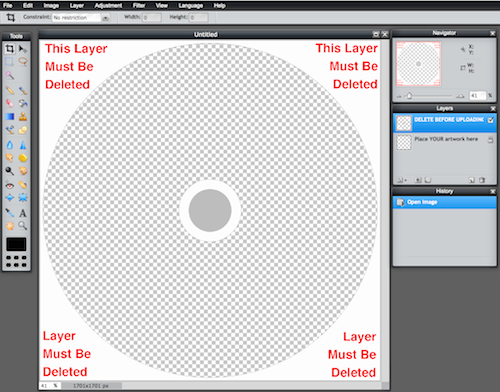 Design It For Me:
If you select Design It For Me option, we will design your disc artwork using elements that you email such as images, logos, text etc. The more information you provide the better! Once you place your order, simply email us by replying to the order confirmation you received with details and attach any images you require. We will then create a proof layout and email it back to your for approval. If you require some layout / content changes, simply email us the details and we'll make the changes. Once you approve the artwork we will then proceed with your order.
Use From a Previous Order:
You must be logged in to use this option. If you select Use From a Previous Order option, simply select the original order number from the drop down list that appears. Ensure that you select the correct media type required. Using this option will not automatically select the media type previously used!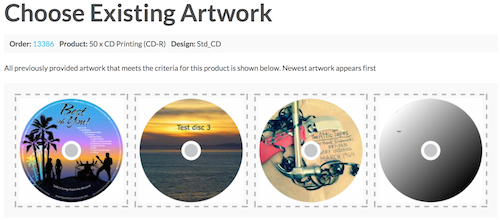 Only artwork for the products ordered will be displayed.