100% Customer Satisfaction Guarantee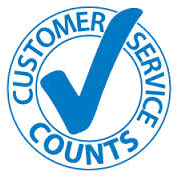 We Are Committed to providing our customers with 100% satisfaction in their experience with us! We feel that the best way to build repeat business and a long-lasting relationship with our customers is by treating them right and giving them the highest quality customer service, along with unmatched product selection and competitive prices. If we ever fail to meet your expectations please contact us via our Contact Us page 24 hours a day 7 days a week and we will make every attempt possible to meet and beat your highest expectations in order to make you a happy customer. If a refund is the preferred method then the return of the order will be required so that we can process your refund accordingly. The cost of return will be the responsibility of the customer. However, if it is deemed that the product is faulty due to poor workmanship then Blank Media Printing will refund the cost of ground shipping.
Choosing The Right Product is important for your application / use. Make sure that your equipment is capable to record on the media you are selecting and also that the media is of adequate capacity to hold the information you will record. If you are not sure, please contact us via our Contact Us page and we can assist / guide you.
If you would like to be 100% sure of the look and quality of the printed discs prior to receiving the full order, you can always add a "Physical Print Proof" to the shopping cart. When this is ordered, we will use your artwork to print a few discs and send them directly to you for your approval. Once the proofs are received by you, simply let us know if we should continue with the remainder of the order or if you would like to upload a new artwork OR if you would prefer to cancel the order, at which time we will refund the remaining balance of the order to the credit card / PayPal account you used for the payment method at the time of ordering.