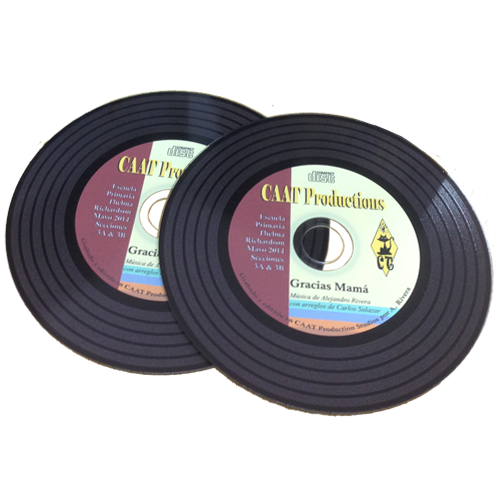 CDs That Look Like Vinyl Records
Our custom printed CDs that look like Vinyl Records combine the retro look of a 45-rpm record with the superior quality and performance of today's CD-R technology. This unique format looks and even feels like an actual vinyl record, right down to grooves you can feel.
Vinyl style CDs are eye-catching and a great way to get your next music CD or Wedding Favor to stand out from the others.
We can custom print a Vinyl Style CD to your specifications and make the white and image background any size you want. Enabling you the freedom to determine your image size is an excellent advantage over other Vinyl Style CDs where the white printed area is a fixed size.
Our CDs that look like Vinyl Records offer the best of both worlds: a custom printed CD that contains high-quality audio or data and a unique design sure to leave a lasting impression.
| | |
| --- | --- |
| | We are proud to offer only the highest resolution printing quality and technology, with the latest 6 Color UV Cured Digital Inkjet process. Unlike Silkscreen printing, Digital UV Inkjet is zero contact, meaning no physical contact is made by the printing process, eliminating any potential physical damage silkscreen printing can do. Additionally, unlike the silkscreen process, we use our proprietary Cold Cure UV™ systems, eliminating high heat transfer during the curing process, unlike traditional UV curing, which is high heat with InfraRed heat (IR). High heat and IR can be detrimental to the disc's physical structure, resulting in either or both write or read errors. |
| | Our waterproof vinyl style CDs will not smudge or smear when handled, unlike traditional inkjet printed discs using waterbased inks. |
| | Under normal handling our discs are durable and scratch-resistant. |
| | You can store 700MB/80 Minutes of Audio content on our vinyl style CDs. |
| | Our CD-Rs can record up to 52x speed. Record speed is dependent on the CD-R recorder/drive used; we perform a 100% compare process with the master disc, ensuring that all discs duplicated are 100% verified. |
Vinyl Style CD Printing Features:
Premium CD-R Media
Capacity: 700MB / 80 minutes
CD Duplication / CD Copying
Record speed up to 52x
Multi-Speed Version 1.2
6 Color UV Cured Printing
Waterproof & Scratch Resistant
Vinyl Style CD Printing Options:
Vinyl Style CD Packaging Options: