Frequently Asked Questions
Below are some of the most common questions we are asked.
Click on the question to see the answer.
1 - How long will it take for my order to arrive after it has shipped?
Estimated Shipping Transit times are as follows for regular FedEx Home / Ground delivery service. Based on Business days - Holidays and weekends are not counted as transit days. FedEx SmartPost can take 2 - 3 days longer than the transit times shown below. FedEx Home Delivery service delivers to residential addresses on Saturdays and Sundays.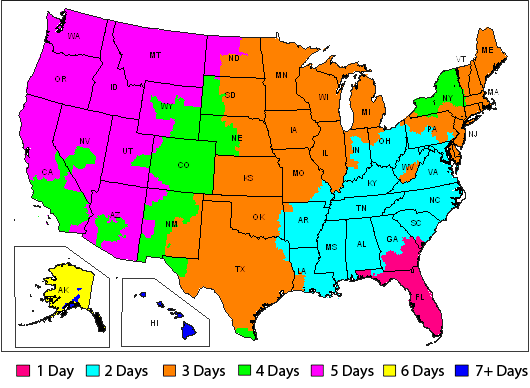 1 Day: FL
1 - 2 Days: GA
2 Days: GA, LA, MS, AL, SC, NC, TN, KY, VA, WV, PA, OH, IN, AR, MD.
3 Days: CT, NJ, RI, NY (lower state), PA (lower), MA, ME, VT, DE, DC, MI, IN, WI, IL, MN, IA, MO, KS, OK, TX, NM, NE, SD, ND, WV
4 Days: NY (up state), PA (upper), NM, CO, NE, SD, WY, CA (south)
5 Days: MT, ND, WY, UT, AZ, CA (north), NV, ID, WA, OR
6 Days: AK
7 Days: HI
If you require faster shipping times you can select from one of the following on the checkout page:
FedEx Express Saver (3 Business Days)
FedEx 2 Day (2 Business Days)
FedEx Standard Overnight (Next Business Day - Afternoon Delivery)
FedEx Priority Overnight (Next Business Day - Morning Delivery)
FedEx First Overnight (Next Business Day - By 8:30 a.m. - Not Available to all locations)
International Shipping to Canda
FedEx Ground 5-7 days
FedEx Express 3 days (normally is the cheaper method)
International Shipping to Europe
FedEx Express - typically is between 3-4 days
​We ship all of our printed discs within 24 hours (without custom printed packaging) - therefore, most locations receive discs within 5 business days!
Please note: Once your package has left our facility we cannot make any changes to your shipping method. Any Returned shipments will be notified and if we need to re-ship you will be responsible for the re-shipping charges.
2 - I am Not Receiving Emails from you! Why is this happening?
We have heard that a few email services are moving more and more emails to Spam/Junk folders. Please check these folders first and then set your Spam settings to allow emails from BlankMediaPrinting.com.
3 - What is Blank Media Printing® projected turnaround time?
We aim to ship orders the same business day (at no additional charge!) of receiving your order and print-ready artwork (Monday through Friday).
For example:
Business Days 1 - Order Placed and artwork/content uploaded.
Business Days 1 or 2 - Order submitted to production.
Business Days 1 or 2 - Order Shipped (Discs and standard packaging only).
Business Days 7-10 - Order Shipped (Orders with Custom Printed Packaging).
However, as we offer custom printing for disc orders of all quantities, we are only sometimes able to forecast demand perfectly. We reserve the right to take 3 - 5 business days to ship, depending on the size of your order. Custom printed packaging will take between 5 - 10 business days.
Rush Service:
If you require your order more urgently, please let us know your required 'In-Hand' date, and we will do our best to ensure your order is delivered on time. We suggest selecting a faster shipping method when ordering, as these orders are given priority. Choosing a method other than Home or Ground tells us that the order is required more urgently! You only pay the extra shipping costs, NO RUSH FEES. At checkout, you should also select a date in the "SHIP BY DATE" field. We will then do our best to ship by that date.
4 - I placed an order, how do I find out the progress?
Each phase of the production process you will receive email updates. Additionally, at anytime you can Log In to your account and view the current status of your order. If your order has already shipped you will also be able to track your order from your account page. Additionally, you can also click the Help link in your order confirmation email and you will have access to additional information.
5 - My Transaction is being declined - Why?
The most common reason is because the Billing address does not match the address that is on file with your credit card company. For example, if you write Boulevard but your credit card company has Blvd. then this can cause a decline. Please ensure your Billing address entered matches exactly as on your credit card statement, otherwise your charge will not be approved - this is to protect the cardholder from possible fraud! Another common reason is the CVV code (three of four digit code) does not match.
6 - What is the difference between DVD-R and DVD+R?
The difference between DVD+R and –R is more or less a personal preference. Years ago, your computer's DVD drive would have been either +R or –R. In the last several years, every recordable drive has been cross-compatible to use either/or. Most uses are for Video, and for best compatibility issues, only DVD-R should be used. DVD-R can also be used for any form of data disc.
7 - How do I place a repeat order?
First you must Log In to your account. If you are a returning customer and you wish to place an exact repeat of a previous order (previous Order number must be 10000 or greater) select 'Repeat an order using a previous order number' from the "Build Order" form. Then select the order from the drop down list. If your previous order number is 9999 or lower you can still select to use a previous artwork. Simply enter the quantity, select the disc type then in the Artwork section select "Copy from a Previous Order", select the order number that the artwork was originally uploaded for from the drop down list.
8 - What is Duplication?
Duplication is the term used to describe the service of copying your data (of which you must own the copyright) onto your printed discs. For example, you have your own band and you want to make copies of your music onto multiple discs, we would 'duplicate' / copy from your supplied master disc on to the blank discs either CD-R or DVD-R. Please note: Purchasing songs from iTunes does not transfer copyright that would allow you (or us) to make copies even if they are to be given away, so we would be unable to duplicate songs unless you were to contact the copyright holders of each song and obtain written permission which would need to be provided prior to copies being made.
We do accept any digital uploads of data for duplication - there is a $10.00 fee for each title uploaded, simply select "Duplicate data from an uploaded master" option in the "Duplicate my Data" option. Additionally, the IPR form can also be filled in on-line. This is all performed after checkout has been completed. We also accept physical master discs to be sent to the street address that is given to each customer once an order is placed. If you send your master disc to our P.O. Box, completion of your order will be delayed by approximately four weeks. Your master disc must arrive in the exact way you would like your copies. We are not able to alter any file types or make any changes to master discs received so you should ensure that your master disc is correct before shipping it to Blank Media Printing®.
9 - Does Blank Media Printing® have any print samples I can see?
If you would like a sample of your artwork printed, simply Build Your Order, then scroll down within the Build Order form and select Physical Print Proof. As the disc is printed using production printers we need to charge a nominal fee of $30.00 per disc artwork. We will then process your artwork and ship you a Physical Print sample of your artwork. We will then require an email from you to confirm that you would like us to continue printing to fulfill your order. If you receive the Physical Print Proof and realize you need to make an artwork change, you can upload a different art file so your order can be completed. We will not, however, send a second Physical Print Proof of the new artwork unless a new order is placed for a Physical Print Proof.
We do not send "generic" samples as it is a very costly and a time-consuming process and our low prices are realized by reducing costs.
10 - How can I submit my artwork for Custom CD/DVD/Blu-Ray Printing and Custom Packaging?
If you have created your own artwork you will be able to upload your artwork / text etc., via our Upload Area after checkout has completed. Full detailed instructions are provided once your transaction has been completed. If you need to access the upload area and you do not have the link for some reason, Log In to your account and select the Order you wish to upload artwork for. All products that require artwork will be displayed including links to Templates should you need them OR you will be able to access our On-Line Designer to build your artwork on-line.

We do not allow access to our upload area until checkout has been completed to ensure that only customers access this area.

OR

If you are using one of our stock designs, you can can create the text layout using our on-line designer which will be available after checkout.
11 - I don't have Photoshop or Illustrator how can I prepare my artwork?
You can prepare your artwork using our On-Line designer which will be accessible after you have checked out. If you would like us to create the artwork for you, simply make sure you add 'Artwork Modification / Assistance' to the cart after you have added your required discs OR Select 'Design it for Me' in the Build Order form.
12 - Will I be able to overprint with my Thermal printer?
Our standard production white is not receptive to either inkjet printing of thermal printing. However, we do offer a coating option to allow for Thermal Printing. Simply select Thermal Receptive Coat in the New Order form and we will apply a special Thermal Receptive coat to your discs to allow your Thermal printer to print on to the discs.
13 - What is UV Curable Inkjet?
UV Curable inkjet is an ink that has been dried using Ultra Violet light. This process makes the image very durable and is smudge proof and scratch resistant, meaning that it will last a lifetime. The print quality is similar to offset.
14 - What Type of Finish are your discs?
Our Standard Printing is a semi-gloss finish similar to offset printed discs. However, we do offer a Gloss Coating option which will enhance your photos / images. We do not recommend using a gloss coat on simple text or line art.
15 - How many colors can Blank Media Printing® print with?
Our printing process uses 6 colors (C M Y K + Light Cyan + Light Magenta) to make the millions of colors used in the printing process. If you have specific Spot colors / Pantone colors these will be converted to CMYK and therefore may print differently. If you have any doubts or questions you should purchase the Physical Print Proof (available at checkout)
16 - Does Blank Media Printing® print directly onto the silver of the disc?
Yes, however you should remember that to obtain the correct color it is best to print on a white background, but if you are only printing text and simple line art etc., then printing on silver may be a good effect and option. By default we automatically white flood our discs inline during the printing process. There will be no need to specify if you require white flood. You will, however, need to specify in the "Order Comments" field if you would like us to print directly onto the silver disc. There is NO additional charge for printing onto silver or white flooded discs.
17 - Will I be able to record / burn information on the discs I receive from Blank Media Printing®?
Yes, we print on CD-Rs, DVD-Rs, and BD-Rs (recordable media) to which you will be able to record / burn pictures, documents, songs, video etc., just as if you purchased blank CD-Rs, DVD-Rs, or BD-Rs at the store.
18 - Can I upload my master for duplication / copying?
Yes, we do accept digital uploads of data for duplication - there is a fee for uploading which includes us to make a master disc for duplication CD = $10.00, DVD = $20.00, and Blu-Ray = $30.00 for each title uploaded, simply select "Duplicate data from an uploaded master" option in the "Duplicate my Data" option. Additionally, the IPR form can also be filled in on-line. This is all performed after checkout has been completed. For more detailed information click the 'Learn More' text within the Duplication/Copy option on the order form
18-1 - How do I get my CD's information to show up on iTunes?
What you see when you put a CD in your computer and open up iTunes is not actually embedded in the CD itself. iTunes reads from on online database called Gracenote. You can submit your CD's information to the Gracenote database straight from your own iTunes program. It differs slightly for the various versions of iTunes. Here is the procedure for iTunes 12 laid out in a few simple steps:
1. Open up iTunes on your computer and insert your CD.
2. A message will pop up asking if you want to import the CD - click NO.
3. Now click the button in the top right corner that says "CD Info". Fill out all the relevant information and click "OK".
4. Select the first track on your CD, right click / control click and select "Song Info". A form will pop up where you can enter all the information relevant to that first track. When you're done, click the right arrow in the bottom left corner to go to the next track. When you're all done, click "OK" in the bottom right hand corner.
5. When you're all done and have double and triple checked all your spelling... click on the gear icon in the top right hand corner of your iTunes. Select "Submit CD Track Names..." and click "OK". That's it. It will take a few days for Gracenote to process your submission.
19 - What file formats do you accept for printing as artwork?
We accept the following file format extensions: JPG, JPEG, TIF, TIFF, PDF
20 - Can you print on to the discs if I provide them to you?
We do not print on to customer supplied discs.
21 - Do you print inserts or tray cards etc?
Yes, we offer a full line of custom printed packaging, see our Packaging section for more details and pricing.
22 - How do I make sure discs I create on my Windows PC work on ALL computers including Mac?
When you create the disc you must create the disc as a 'Mastered' disc. Not a Live File System as this will NOT be compatible with other computers or operating systems. If you see the option burn like a USB memory stick OR compatible with a CD/DVD player you MUST choose the CD/DVD player option. Other terms that maybe used are 'Closed', 'Closed Session', or 'Finalized'.
23 - How can I request a Back Link to my website?
24 - Why don't you offer DVD-R Dual Layer Disc - Only DVD+R Dual Layer Discs?
DVD-R DL has compatibility issues with legacy DVD-ROM drives, known as pickup head overrun. To avoid this issue, the two layers of the disc need to be equally recorded. But this is a contradiction with the sequential nature of the DVD recording. Thus DVD Forum, under Pioneer's lead, developed a technology known as Layer Jump Recording (LJR), which incrementally records smaller sections of each layer to maintain compatibility with DVD-ROM drives. DVD-R DL media has been discontinued by most manufacturers meanwhile. DVD+R DL is dominating the market for dual-layered media.
25 - What kind of discounts do you offer?
We do not offer any discounts. However, periodically, we may offer special discounts which are announced via email and on the Build Order form.
26 - Do you have a referral program?
Yes, we do! Our referral program allows any customer who uses your code to receive a discount. Each time your Referral Code is used, you will also receive a discount code in your account.
27 - What countries do you ship to? Do you ship internationally?
We ship worldwide! We frequently ship to Canada, all parts of Europe, Australia, New Zeland, Japan, and south America. Learn more about our discounted FedEx Express international shipping rates.