Custom Blu Ray Duplication & Printing
We only use the best media - Verbatim DataLife Plus BD-R discs to assure our customers receive the best product possible. Blu-Ray discs (25GB) offer great data storage and hold around 2,400 images or 135 HD minutes. BD-R Dual Layer discs (50GB) can hold approximately 4,800 images or 270 HD minutes. In comparison, the BD-R XL discs can hold up to a whopping 100GB of data. - 4K Blu Ray Duplication available.
Blu-Ray Packaging & Burning Options
Our custom printed Blu-Ray Discs come with plenty of storage space at a low cost. With 100-year lifespans and quality custom printing, you can rest assured your content, images, and other files are safe in all hands:
Longest Lifespans
Did you know that Blu-Ray discs have the longest lifespan of all data backup types, along with other optical media options? Their longevity makes them perfect for professionals who need to make multiple secure data backups.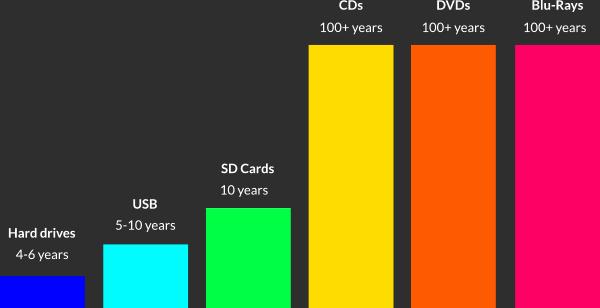 More Data Per Dollar
Blu-Ray Discs also boast the most storage space for the lowest cost. Check out the comparison below of how many full-resolution images you can store for just $10 on each physical backup device:
About Our Discs
Blu-Ray Discs, Dual-Layer Blu-Rays, and Blu-Ray - XL offer 25, 50, and 100 gigabytes of data storage, respectively - making them the best storage and sharing device for photographers and videographers who need plenty of space for their high-resolution media files. We use the best - Verbatim DataLife Plus media.
With our edge-to-edge, state-of-the-art 6-color digital UV printing technology, your discs will look professional and perfect whether sharing with clients or keeping a secure backup. We also have secure Blu-Ray cases with paper inserts for added security and space for your information.