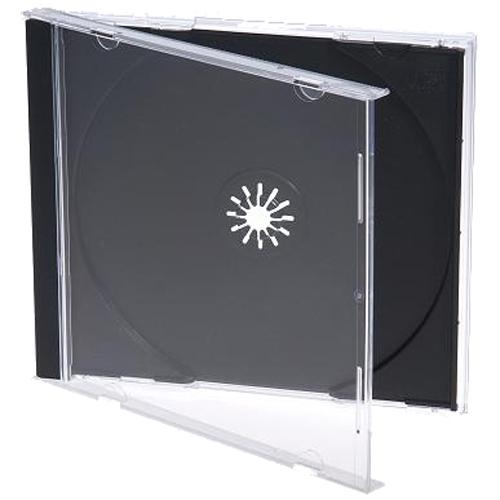 2 Disc Jewel Cases - Black Tray
This standard CD jewel case is manufactured with 100% new high-quality polycarbonate and general-purpose and high impact polystyrene and holds two discs. The premium quality ensures that it will be amongst its competition, providing superior storage protection for your custom printed discs. Clips on the inside face of the transparent front part of the case that will allow you to customize your product with our custom printed inserts and tray cards. Likewise, the removable tray, which means you can also customize the reverse side of the CD case using a custom printed tray card. While this jewel case has the traditional black tray, we also offer completely clear jewel cases, as well as slim jewel cases.
Using this 2 CD jewel case for your custom printed media will provide a retro feel for your target customers or audience due to the cases' traditional album case look. Combined with the superior quality and inexpensive pricing, Blank Media Printing® 10.4mm premium standard CD jewel case, will be your best investment for protecting your optical discs.
Please Note: If you order only cases without paper parts inserted, the cases will be shipped unassembled (Tray not inserted into clear outer case).
Features:
Crystal Clear Lid
2 Disc Black Tray
Dimensions: 10.4 x 145 x 125mm
Lightweight
Machine Grade
Standard-sized jewel CD case
Miniumum order 25