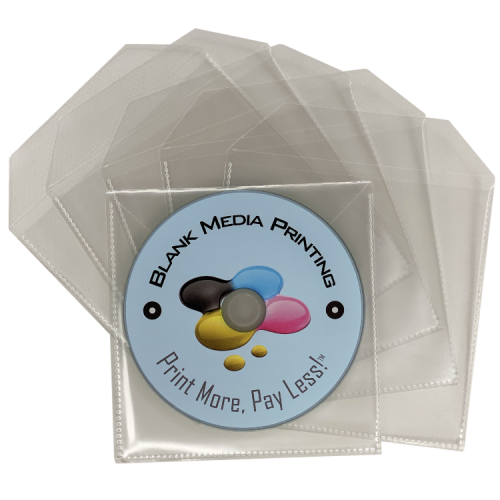 Plastic CD and DVD Sleeves
One of the most popular inexpensive means of disc protection is the plastic sleeve. CD Sleeves Plastic and DVD Sleeves Plastic serve to protect your discs from scratches and moisture and are more resilient than paper sleeves. These sleeves are made of high quality clear plastic that are welded around the edges allowing the disc to be protected from dust, dirt, & moisture while at the same time enabling the viewing of the full printed disc inside.
This Blank Media Printing® plastic sleeve is manufactured with durable polypropylene material. It is lightweight, strong, and transparent. You will not have to worry about your discs getting scratched or contaminated by dust or moisture. The special flap allows you to tuck the flap closed and can be opened and closed several times thereby ensuring that your disc art and disc do not fall out of the sleeve.
Our wholesale pricing allows you to get CD Sleeves Plastic and DVD Sleeves Plastic to fulfill your needs while maintaining your budget. Our space-saving but very affordable Blank Media Printing® clear plastic sleeves with tuck-in flaps are the solutions to your CD / DVD / BD-R storage problems.
The integrated tuck-in flap ensures that your discs are kept clean and dust / scratch-free. Sold in packs of 100 sleeves.
Plastic CD DVD Sleeve Features:
Crystal Clear Plastic
Tuck in Flap
Full Protection
Order in Multiples of 100
5.1" x 4.9" (130mm x 125mm)