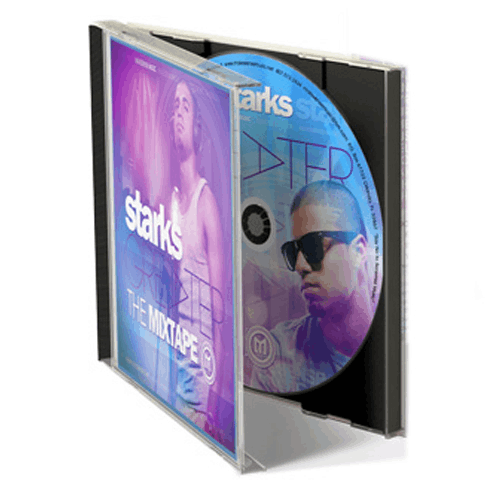 CDs in Jewel Cases - Black Tray
CD jewel cases are a timeless option for disc packaging because they are affordable, durable, lightweight, and easy to organize.
A jewel case for a CD comes with a clear plastic cover, so you can easily insert custom artwork. and include all the relevant information needed to provide your listeners with a comprehensive experience. These CD jewel case covers are aesthetically pleasing because of their sleek look. They also offer protection from dust, scratches, and other environmental factors that can damage discs.
Stunning Print Quality
Our 6-color printing process creates beautiful prints while ensuring maximum longevity. You want your audience to know you put effort into your media. With impressive prints for your CD jewel case inserts/booklets and tray cards, your packaging will take your media to new heights. CD inserts/booklets for your jewel cases are important because they contain vital information about your media for your audience.
Our CD jewel cases are not only durable and eye-catching, but they also give off a professional appearance. For your customers who have a CD collection, a CD jewel case can show off the artwork and spine. This makes them ideal for displaying in retail settings, potentially increasing the chances of sales or distribution.
Get CD Jewel Cases in Bulk
We are a reliable online provider of custom printed CD jewel cases for standard discs. You can get custom CD jewel cases in both small and large quantities. At Blank Media Printing, we strive to provide the fastest turnaround time with the best customer service.
We offer full packaging services to make sure your discs are ready for distribution as soon as possible. We have lots of options from standard CD jewel cases to double CD jewel cases. With our worldwide reach, you can be sure that your discs will get into your hands quickly and without any hassle.
Order CD Jewel Cases
We've pre-packaged a combo of CDs with black-tray jewel cases for your ease of ordering. Our disc printing and packaging printing are sure to make your projects look amazing.
Please choose how many pages you want in your booklets. If you require assistance with design work, and more with the options below! Please allow 7-10 business days for production after artwork approval.
Customers who upload artwork to be printed must own the rights to it. Any content being duplicated must include an intellectual property rights (IPR) agreement as proof of ownership. This helps ensure that no copyright infringement occurs and that you get exactly what they pay for.