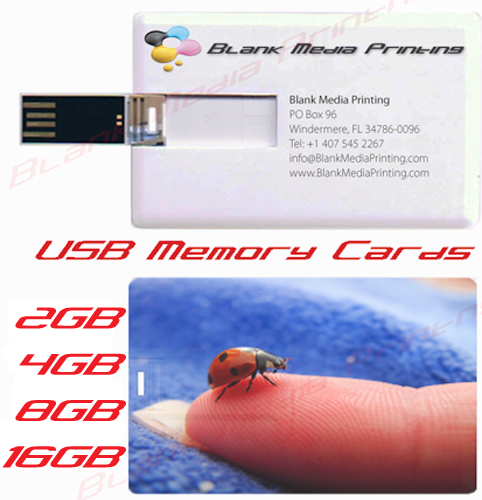 DISCONTINUED!!
These custom printed USB Business cards are ideal for product promotion or branding. They are also becoming more and more widely used by Photographers and Videographers to share images and videos. With newer laptops without the 'traditional' CD/DVD drive, the USB Mass Storage device is being used to fill the void. The large print area associated with this card-style USB drive makes it the most customizable data storage solution.
Our personalized USB drives are only available as 4GB.
Printed in the USA!
We custom print USB drives in-house using the same 6 color UV Digital Print technology that we use for all our custom printed discs.
Customized USB Business Card Features:
Grade 'A' / Tier '1' Memory Used
Windows , Linux, and Mac OS.
Compatible with USB 2.0
Measures 3.3" x 2" x 0.08" (83 x 52 x 2mm)
Use for Data storage
Includes Resealable Plastic Sleeve
Some Sample Uses:
Photos / Videos for clients
Unique Business Card
Conventions / Exhibitions
Eye Catching Promo
Wedding Favors
Host your design portfolio
Share tax documents with clients
USB Business Card Options:
Data Pre-Loading - starting @ 40¢ each -
Single or Double Side Printing
Artwork Design - Learn More
Physical Print Proof